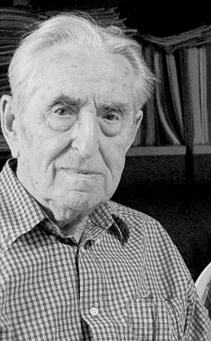 photographer Raymond Cauchetier
It may come as a surprise to many fans of the Nouvelle Vague that some of the best-known images associated with the movement such as Jean-Paul Belmondo and Jean Seberg strolling together down the Champs Elysées in Breathless or Jeanne Moreau, Oskar Werner and Henri Serre running across the railway bridge in Jules and Jim came, not from the films themselves, but from stills shot by photographer Raymond Cauchetier. Between 1959 and 1968 Cauchetier revolutionised the art of set photography, chronicling with his camera – not just the action in front of the movie lens – but also the behind-the-scenes process of the making of the films.
Now, after years in which his contribution to the iconography of the Nouvelle Vague has gone largely unacknowledged, Raymond Cauchetier is receiving the recognition he deserves. Exhibitions of his work have opened in galleries to great acclaim in Paris, London, Los Angeles and elsewhere; and this year, for the first time, a book - Raymond Cauchetier's New Wave dedicated to his set photographs has been published.
Newwavefilm.com were lucky enough to speak to Raymond Cauchetier about his life and work at the opening of his recent show at the James Hyman Gallery in London.

---
My father died before I was born so I never met him. My mother, who came from a middle-class family, suddenly found herself destitute. She had no professional experience. My youth was marked by my academic underachievement. In 1940 I became a private in the French Air Force in Montpellier. I cycled there from Paris and witnessed the chaos on the roads.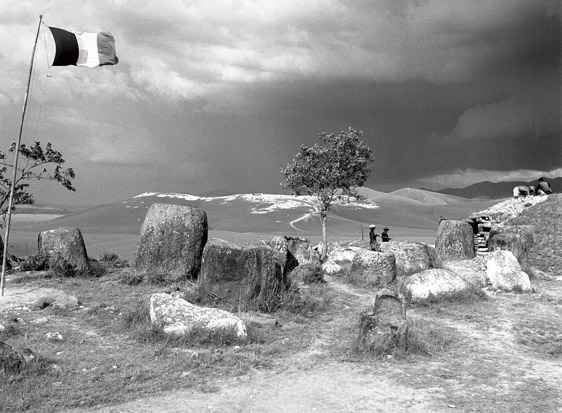 Plaine des Jarres, Laos, 1953. French base. © Raymond Cauchetier

I took part in the Resistance during the war. I joined the ranks of a commando from the Midi region called Corps Franc Pommies, which later united with the Première Armée Française when they landed in Provence. I was wounded in the Vosges, before joining the Ecole des Cadres de la Première Armée who appointed me officer. I was then called back by the French Air Force and assigned to an airbase in Bourgogne, where the French Air Ministry noticed my initiatives and assigned me to their Cabinet. It was a few years later, in Indochina, that I began taking photographs for the first time and completely by chance because my commanding officer asked me to put together a photo album for air service personnel and nobody else came forward. I am self-taught; I learnt by experimenting with the range of possibilities offered by the Rolleiflex, a camera that enables one to see and frame a picture at the same time. The Rolleiflex was the shatterproof camera used by all war photographers at the time. I learnt the rudiments of photography by watching them but I developed my own eye, which is what really matters in photography. After leaving the army, I became unemployed. I eventually found work with a producer of photo-stories, Hubert Serra. He liked to surround himself with veterans from Indochina, like myself, because we were clueless and so he would pay us less than professional photographers. Raoul Coutard was another veteran who worked for him. We had to work fast and improvise lighting by projecting light against walls or ceilings. I learnt a lot in this job and so did Coutard since the famous New Wave lighting that made his name was no more than the simple transposition, with flood lamps, of the photo-story lightning techniques.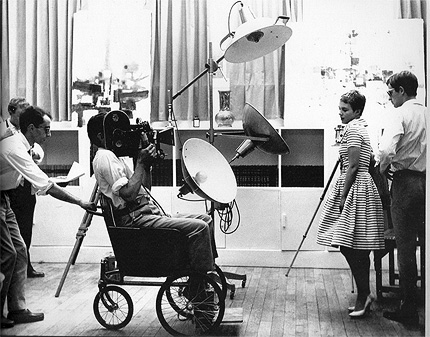 On set, Breathless © Raymond Cauchetier

The film producer, Georges de Beauregard, was looking to hire cheap technicians. He had the same reasoning as his friend Serra and hired both Coutard and me for his first films. He produced Breathless with the same rationale. Jean-Luc Godard, who had yet to make a name for himself, was the only director who agreed to make a film with Beauregard's tight budget, which was solely funded by the Aide au Cinéma. This was a loan authorised by the Ministry of Culture to support producers. At the time, film-set photographers were asked to take a photograph of a scene that had just been shot by positioning their camera in the same spot as the film camera, and to leave immediately afterwards to avoid delaying the work of other technicians. To take photographs of the filming itself was considered, if not a violation of confidentiality, at least a waste of time and money. I was harshly criticised by the production for taking these kinds of photographs, but I felt I was witnessing an exceptional moment in the history of cinema, which I had to preserve. Godard followed his own path with perfect calm and remained unfazed by Georges de Beauregard's violent criticism, even when Beauregard assaulted him one day in Rue François-Ier and rebuked him for the inconsistencies in his approach to directing the film. Godard, like me, was learning about cinema but it was his cinema, he mastered it from beginning to end without being a day behind schedule. Yet he would sometimes arrive on set with nothing more than a notebook in which he had scribbled a couple of ideas and that was enough for him to start filming, to the great alarm of Jean Seberg who was little used to such improvisations. Nevertheless she played along with it, without realising that the film would make her a superstar a few months later.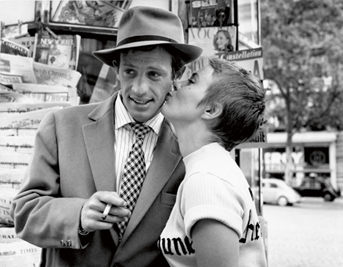 Jean-Paul Belmondo and Jean Seberg in Breathless © Raymond Cauchetier

Godard didn't tell me how to take pictures. I had to make myself invisible on set and seldom interacted with him, so I was free to take my own personal approach to set photography. He trusted me to do the job. Paradoxically the most famous photograph taken on Breathless is not a set-photograph. During the shoot on the Champs-Élysées, the crowd was so dense that I decided to walk Belmondo and Jean Seberg to a quiet spot at the other end of the avenue, and by using my photo-story experience, I recreated, in one single photograph, the scene they had just shot. As for the photograph of the kiss, which has also become emblematic, it was part of a scene filmed from the roof of a block of flats on the Champs-Élysées that had gone completely unnoticed. I asked Jean Seberg and Belmondo to recreate this scene for me and the photograph also became iconic of the New Wave. Until 1959 cinematographers could only work with the relatively slow 50 ASA film. There was a much faster Ilford 400 ASA photography film in rolls of 30 metres; it was the kind of film we used for photo-stories. Coutard very cleverly used this fast film, which enabled him to shoot in natural settings with very little light, thus giving the film a documentary feel which became the style of the New Wave. As a result he gained international lasting recognition.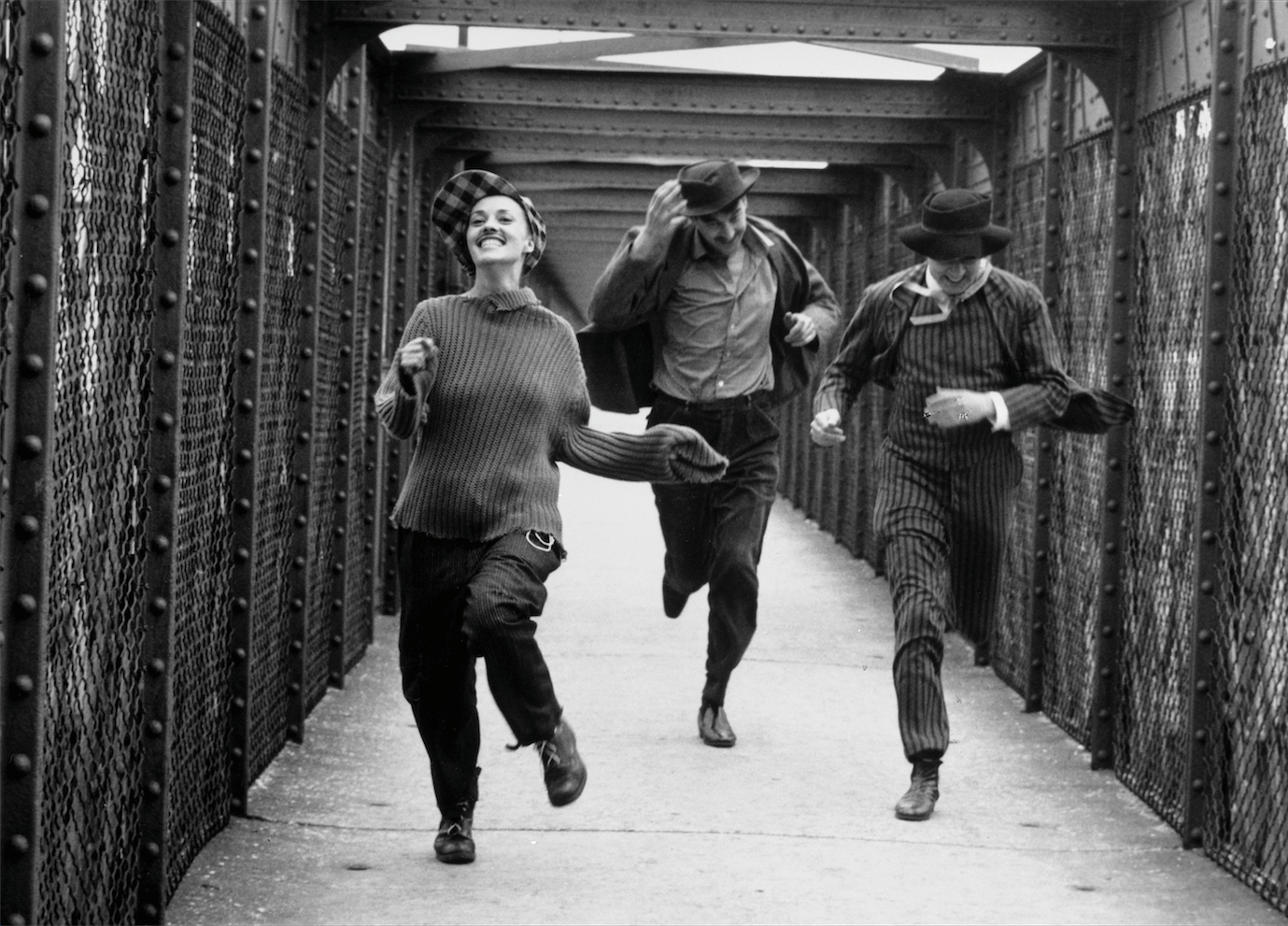 Jules and Jim © Raymond Cauchetier

Godard, who hid his shyness behind his dark glasses, was often uncommunicative, while François Truffaut enjoyed sharing his enthusiasm, and sometimes his concerns. He was one of the most endearing men I have ever met. The film was shot in 1962. At the time, automatic cameras had not yet been invented so I had to turn the hand crank of my Rolleiflex after each take to roll the film. François Truffault took four takes of the running scene. I was only able to take one photograph, at 1/500 per second, for each of the takes. Luckily, they all came out well but I think of them as sport photographs rather than cinema photographs. I brought documentary photography, which I learnt by watching war correspondents in Indochina, to cinema. My approach was at loggerheads with the standards of set photography at the time but I felt that it was extremely important to capture the extraordinary adventure involved in shooting a film, as well as taking scene-photographs. Medieval sculptures are motionless unlike the sun, which moves constantly, so one has to patiently wait for the light to be most complimentary to take photographs of the sculptures. At least, this is how it works outdoors while indoors one needs to astutely place small, light but sturdy video projectors, which are indispensable to photograph sculptures in dim locations. It all comes down to lighting when photographing locations. Paradoxically, my photo-stories skills were more useful than my set-photography experience.

Better late than never.

Interview by Simon Hitchman, © 2015, translation by Melissa Tricoire - please do not reprint or reuse without permission.