Czech New Wave directors including Vera Chytilova (center), Milos Forman (second from right), Evald Schorm (to his left), and Jiri Menzel (far right).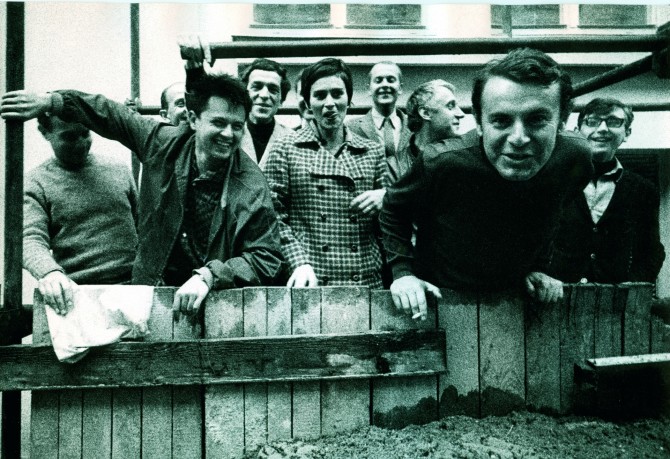 The Czechoslovak New Wave was a movement in cinema beginning in 1963 and lasting until the end of the Prague Spring reforms of 1968. Led by students of the Film and Television School of the Academy of the Performing Arts in Prague (FAMU), the arrival of this new wave of cinema came about largely as a result of new directions in the arts generally and the pressure for social and political reform that developed both inside and outside of the Communist Party in the 1960s – a collective pressure that led to the abolition of censorship and the movement towards increased democratisation.

The three films that launched the wave were the debut features of Milos Forman (Black Peter), Vera Chytilová (Something Different), and Jaromil Jires (The Cry). They were followed by the work of a whole range of debut directors, among them Jan Nemec, Evald Schorm, Pavel Jurácek, Jan Schmidt, Ivan Passer, Jiri Menzel, Hynek Bocan, Juraj Jakubiso, Dusan Hanák, Elo Havetta, and Drahomira Vihanová. Each tended to go in different creative directions and find their own individual approaches, although their films often shared a common sense of humour, absurdity, pathos, and sometimes startling surrealism.

While the attack on tradition and the falsifications of Socialist Realism was spearheaded by the younger generation, an older generation who had paved the way for the New Wave, joined in with the new freedoms of the 1960s and began producing some of their best and most groundbreaking work. Among them were Frantisek Vlácil, Stefan Uher, Vojtech Jasny, Karel Kacyna and the directing team of Ján Kadár and Elmar Klos who won the first Czechoslovak Oscar for Best Foreign Language Film in 1965 for their film A Shop on the High Street.

Daisies, directed by Věra Chytilová (1966)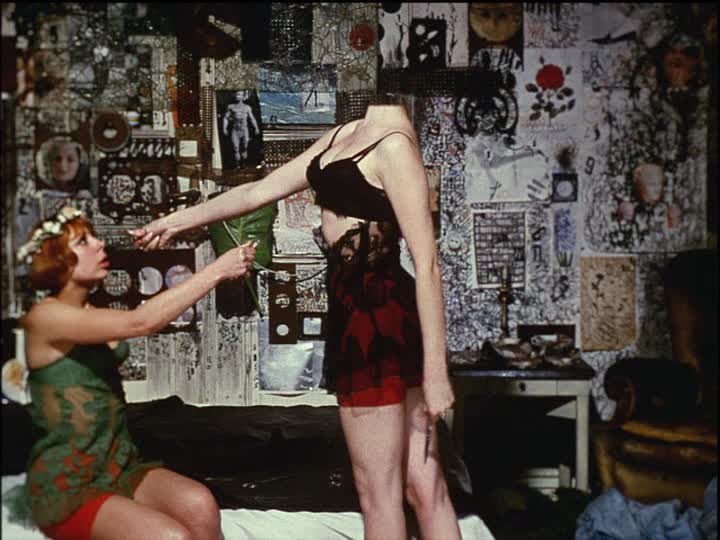 Taking advantage of the movement's international success, some of its leading figures, such as Milos Forman and Vera Chytilová, began making bolder attacks on the communist authorities. Forman's The Fireman's Ball (1967), set at the annual ball of a small town's volunteer fire department, portrayed the corruption and incompetence at every level of society, while Chytilová's irreverent Daisies (1968) ridiculed the establishment through the anarchic pranks of two young girls who refuse to take any of it seriously. Other directors took their inspiration from Czech literature, most notably Jiri Menzel whose adaptation Bohumil Hrabal's Closely Observed Trains won the Academy Award for Best Foreign Language Film in 1966, and Jaromil Jires's, whose adaptation of Milan Kundera's The Joke (1968) was described by Amos Vogel as "possibly the most shattering indictment of totalitarianism to come out of a Communist country".
The climate of liberalisation in Czechoslovakia that had allowed such creativity to flourish culminated in the 1968 Prague Spring when new leader Alexander Dubcek came to power. His plans to bring "socialism with a human face" to Czechoslovakia through reform was quickly crushed, however, when Soviet and Warsaw Pact tanks rolled into the country and reinstalled the most hard-line communist government in the country since the Stalinist era. The intervention brought the Czechoslovak New Wave to an abrupt end and resulted in Milos Forman, Jan Nemec and others, fleeing the country to resume their career abroad. Others who remained faced censorship of their work or were, for some years, prevented from working in cinema at all.
| | |
| --- | --- |
| Věra Chytilová | Juraj Herz |
| Miloš Forman | Jan Němec |
| Dusan Hanák | Antonín Máša |
| Vojtěch Jasný | Jiří Menzel |
| Jaromil Jireš | Ivan Passer |
| Pavel Juráček | Evald Schorm |
| Karel Kachyňa | František Vláčil |
The Sun in a Net by Štefan Uher (1962)
Black Peter by Miloš Forman (1963)
Loves of a Blonde by Miloš Forman (1965)
The Shop on Main Street by Ján Kadár and Elmar Klos (1965)
Intimate Lighting by Ivan Passer (1965)
Pearls of the Deep by Jiří Menzel, Jan Němec, Evald Schorm, Věra Chytilová, Jaromil Jireš (1966)
Closely Watched Trains by Jiří Menzel (1966)
A Report on the Party and Guests by Jan Němec (1966)
Daisies by Věra Chytilová (1966)
The Firemen's Ball by Miloš Forman (1967)
Marketa Lazarova by František Vláčil (1967)
The Joke by Jaromil Jireš (1968)
The Cremator by Juraj Herz (1969)
The Ear by Karel Kachyňa (1970)
Valerie and Her Week of Wonders by Jaromil Jireš (1971)
OTHER FILMS OF NOTE
The White Dove by Frantisek Vlácil (1960)
Something Different by Věra Chytilová (1963)
The Cassandra Cat by Vojtěch Jasný (1963)
The Cryby Jaromil Jireš (1963)
The Fifth Horseman is Fear by Zbynek Brynych (1964)
Konkurs by Miloš Forman (1964)
Diamonds of the Night by Jan Nemec (1964)
The Hand (Ruka) by Jirrí Trnka (1966)
Coach to Vienna by Karel Kachyňa (1966)
Return of the Prodigal Son by Evald Schorm (1967)
Deserters and Pilgrims (aka The Deserter and the Nomads) by Juraj Jakubisko (1968)
All My Compatriots by Vojtěch Jasný (1968)
Capricious Summer by Jiří Menzel (1968)
Oratorio for Prague by Jan Neměc (1968)
Valley of the Bees by Frantisek Vlácil (1968)
Adelheid by Frantisek Vlácil (1969)
Birds, Orphans and Fools by Juraj Jakubisko (1969)
Behold Homolka by Jaroslav Papoušek (1969)
The Gala in the Botanical Garden by Elo Havetta (1969)
Larks on a String by Jiří Menzel (1969)
A Ridiculous Gentleman by Karel Kachyňa (1969)
Fruit of Paradise by Věra Chytilová (1970)
Case for a Rookie Hangman by Pavel Juráček (1970)
many others!
This article is a brief overview. Wider section on the movement will follow in the future.
Return to: 'International New Wave'.